2022 Question and Answer With Haunted Majestic
Home » Blog » West Virginia Haunts: An In Depth Look
June 3, 2022 By Haunt News & Press Releases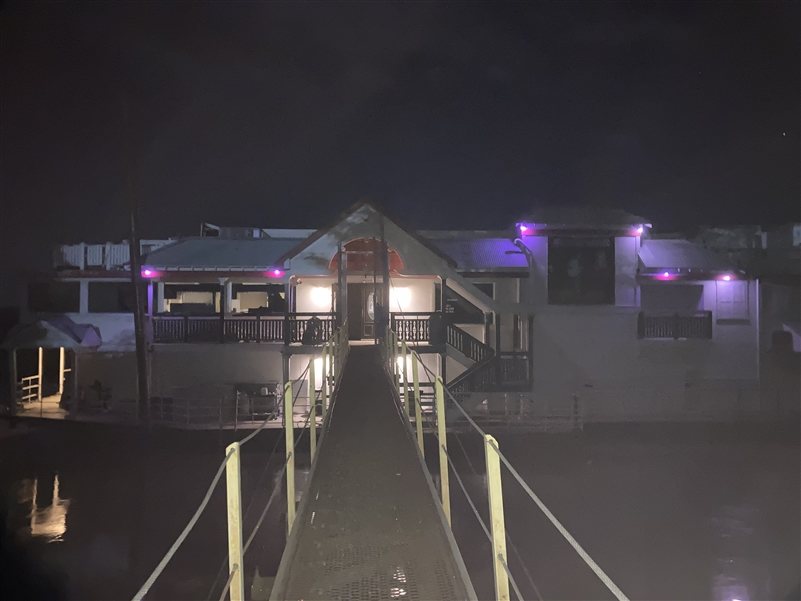 Haunted Majestic, West Virginia's only floating haunted attraction
WestVirginiaHauntedHouses.com recently sat down with Dana Tomes of Haunted Majestic, to discuss what's new at Haunted Majestic for the 2022 Halloween Season!
What's new at Haunted Majestic for 2022? Do you have any new rides, attractions, or special features that Haunt Seekers should know about?
Yes. Haunted Majestic has added more than 400 additional feet to our haunted trail this year which leads to and from the historic Haunted Majestic barges. Now we have a complete loop trail that leads our guests to the barges, through the barges, and back to the pavilion area that includes about a quarter of a mile in length.
What are you most excited about for the 2022 Halloween Season?
Haunted Majestic is adding a lot of effort to entertaining our guests. We have added a performance stage in the line waiting area where we will have magicians, fire breathers, storytellers, face painters, and more featured each night to help involve our guests in the family fun atmosphere our haunt promotes.
What differentiates Haunted Majestic from other local haunts in West Virginia?
Haunted Majestic is the only haunted attraction in West Virginia that is actually floating! Our haunt includes two inland river barges which are moored on the Ohio River and guests actually cross a walking bridge over the river to board the barges. It is a very unique haunted setting.
How long has Haunted Majestic been in business? Can you tell us a bit more about Haunted Majestic's history?
Haunted Majestic opened as a haunted attraction in 2019, but the barges themselves have been around serving in various capacities since they were built in 1912. They are best known for their service during World War II in Europe where they were used as a floating Navy hospital for injured troops.
What's your favorite experience since opening Haunted Majestic?
Our favorite part about operating Haunted Majestic is the additions we are able to bring our guests each fall. Every year we focus on adding new things to the haunt to make the entertainment better, the haunt scarier, and the overall experience more enjoyable. We have special movie stars and movie cars every weekend that our guests can interact with. It is all part of their general admission ticket. We are happy to be able to make Haunted Majestic a fun family haunted attraction for all ages.
How long is a typical haunt experience at Haunted Majestic from start to finish?
The typical haunt tour is about 25-30 minutes from start to finish, but the overall experience takes at least an hour or more to enjoy everything. From the concessions to the museum and gift shop boat, to the entertainers and carnival area, there is a lot more to enjoy than just the haunt itself.
On a scale from 1 to 10, how scary would you say Haunted Majestic is? Why?
Haunted Majestic's goal isn't to be the scariest. That may sound odd, but every haunt can't be the scariest. We strive to be the most fun. We want our guests to say after a visit that it was a good experience and that they got to see or do something that other haunts just don't offer. That's our goal.
Does Haunted Majestic's property have any real haunted history? Do you have a spooky encounter you'd like to share?
The property exhibits paranormal activity and the barges themselves also have a haunted history. We offer paranormal tours after hours on weekends and on special nights throughout the year to let people see for themselves our ghosts. You can even rent the barges for your own private ghost hunt if you want.
What inspired you to open up a haunted attraction? What's your favorite part of the business?
Haunted Majestic is all about bringing fun to our community. From providing jobs to local students during the haunt season to giving back by sponsoring community charities and children's activities in the off season we just want to be a safe place where people can come and have a good time during the Halloween season.
How has new technology (i.e. animatronics, special props, etc) helped you to enhance Haunted Majestic?
Technology continues to take the haunted attraction industry to new heights each year and Haunted Majestic is no exception. We strive to add new animatronics, lighting, and high tech features to our haunt on a regular basis. Haunters expect it and we try to add something special each year to make Haunted Majestic a better experience for them.
Can Haunted Majestic accommodate large groups? How many people can experience Haunted Majestic together as a group?
We do offer discounts of 25% off for groups of 15 or more. We have had school groups in the past who have had a great time. Our tours of the barges are limited to 10 people in a single group, so larger groups have to split up to do the actual tours, but can do all of our other activities as a single group if they want. Haunted Majestic is a great place to bring your family and friends for some great Halloween fun.
Does Haunted Majestic offer any special deals, discounts, or coupons?
We do offer 25% off for groups of more than 15 people, and we do offer 25% off to all veterans who show a military ID card or proof of service record. We do have some other special promotions on various nights of the haunts that help save on ticket pricing as well. And, we always offer a special gift from the gift shop to all of our guests under 8 years old.
Anything else you'd like to let us know about Haunted Majestic?
If you haven't tried Haunted Majestic we hope you will do so this fall. We try very hard to make the experience enjoyable and scary for everyone. We promise you will find Haunted Majestic offers experiences you won't find at your typical haunted attraction.