2022 Question and Answer With Fright Nights WV
Home » Blog » West Virginia Haunts: An In Depth Look
August 24, 2022 By Haunt News & Press Releases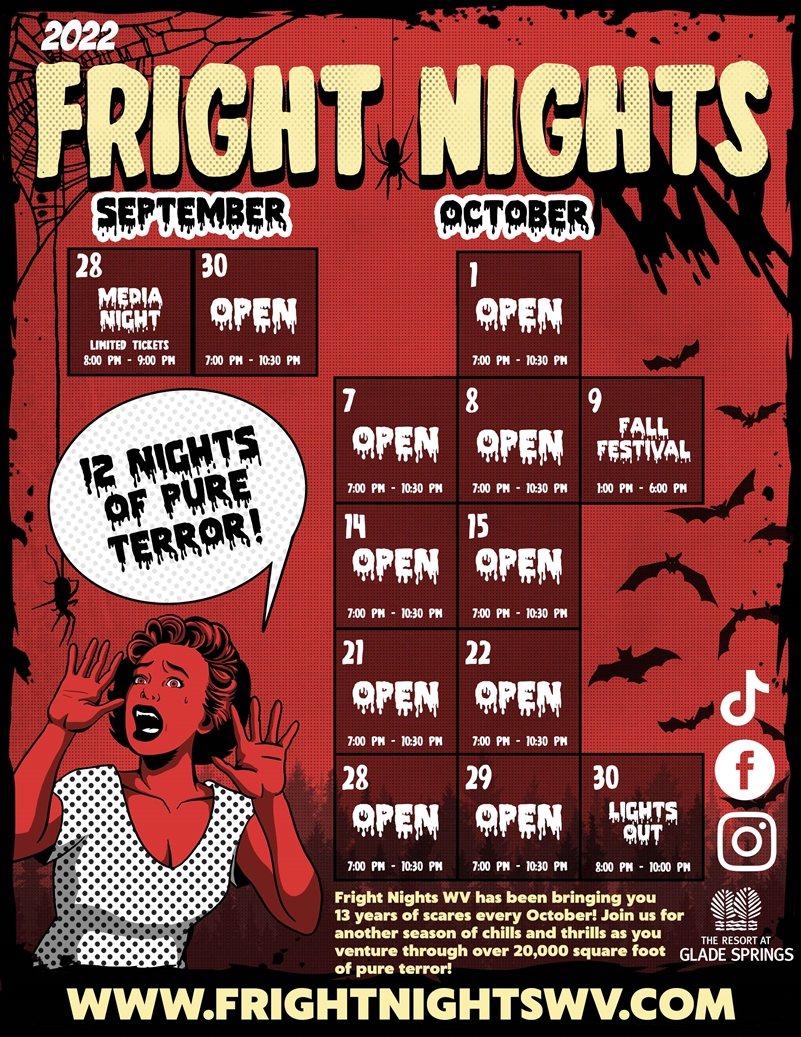 Fright Nights 2022
WestVirginiaHauntedHouses.com recently sat down with Ashley Long of Fright Nights WV, to discuss what's new at Fright Nights WV for the 2022 Halloween Season!
What's new at Fright Nights WV for 2022? Do you have any new rides, attractions, or special features that Haunt Seekers should know about?
Brand new, coming to our Monster Midway is an exciting and terrifying 5 Minute Escape Room "Escape the Grave". You and 3 other people will be buried alive, entombed with Chrissy, Eddie, Billy, or Barb, unless you can solve the puzzle to Escape the Grave.
Another new Haunt Experience added to our attraction is House of Wax: Do you dare enter the House of Wax where frighteningly realistic sculptures of vampires, werewolves, monsters and all varieties of killer creeps reside? German sculptor Johann Schultz uses an unorthodox technique to make them so lifelike, you'll be afraid to turn our back!
What are you most excited about for the 2022 Halloween Season?
We are very excited to introduce our new "Stranger Things" inspired Escape Room to our Monster Midway and for our loyal customers to see the brand new House of Wax!
What differentiates Fright Nights WV from other local haunts in West Virginia?
Fright Nights WV is the only haunt in WV that offers FIVE Haunted Experience Themes with one ticket price. You will get to walk through 5 distinct haunt themes at our attraction. We also do a killer "Virtual Line" meaning you do not have to stand in line at our haunt. Your group will be texted when it's time for you to enter. Customers will get an estimated wait time, so they can enjoy the monster midway, hang out by the fire, or grab a beer!
How long has Fright Nights WV been in business? Can you tell us a bit more about Fright Nights WV's history?
This is our 13th year! Each year we have expanded and grown into what we are today!
What's your favorite experience since opening Fright Nights WV?
One of my favorite experiences with Fright Nights is our TIkTok page. Now having over 300,000 followers, we love creating content and interacting with fans all over the world.
How long is a typical haunt experience at Fright Nights WV from start to finish?
To walk through all five themes inside our haunt, it usually takes about 25 minutes to complete.
On a scale from 1 to 10, how scary would you say Fright Nights WV is? Why?
Fright Nights WV actually scored the highest ratings for scare factor and overall entertainment value in our state from three different national haunt reviewers in 2021! So from a scale from 1 to 10, of course we rate the experience a 10!
Does Fright Nights WV's property have any real haunted history? Do you have a spooky encounter you'd like to share?
Fright Nights WV is located inside an old resort equestrian center which is believed to be haunted by a ghost named Lucy.
What inspired you to open up a haunted attraction? What's your favorite part of the business?
I have always enjoyed going to haunted attractions from a young age. I was working at The Resort at Glade Springs (our location) when I pitched them the idea a couple years after I graduated college. Now 13 years later, Fright Nights WV is a nationally ranked haunted attraction and I (Ashley) am currently on the board of directors for the Haunted Attraction Association.
How has new technology (i.e. animatronics, special props, etc) helped you to enhance Fright Nights WV?
Technology and animatronics are second nature to Fright Nights. Our virtual queue and timed ticketing has probably been the biggest upgrade to Fright Nights WV. Switching to virutal queues and timed ticketing has made Fright Nights WV operation much smoother for our guests and for us!
Can Fright Nights WV accommodate large groups? How many people can experience Fright Nights WV together as a group?
We can and have accommodated very large groups. Our largest group was 80 people. We offer group discounts for groups of 15+. Since we are located in a resort, we do have a conference center, hotel rooms, and plenty of restaurants and amenities for groups staying on property.
Does Fright Nights WV offer any special deals, discounts, or coupons?
We offer group discounts for groups size 15+. We do special discounted deals throughout the season through contests on social media.
Anything else you'd like to let us know about Fright Nights WV?
Follow us on TikTok @FrightNightsWV